Out of the Ashes
Regular price

$6,600.00
Sale price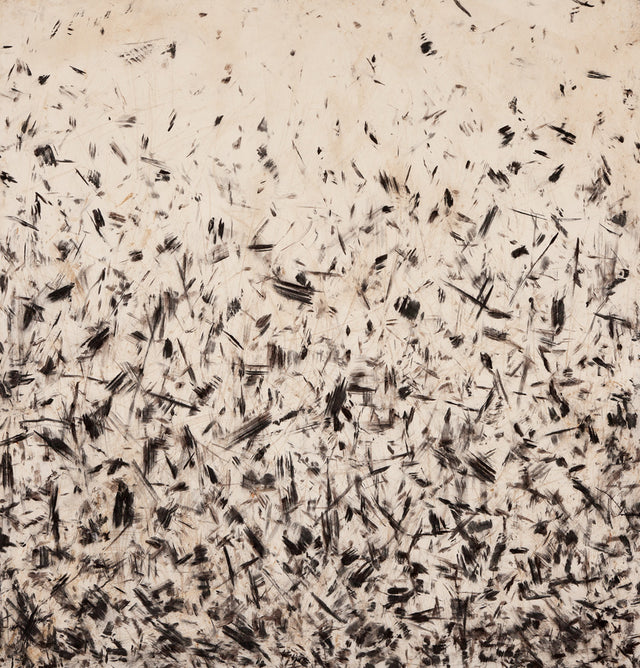 Jody Graham
Australia
After the Australian Black Summer mega-blaze, I connected with Den Barber, an Aboriginal man, descendant of the Traditional Custodians from Mudgee of the Wiradjuri people in the Central Tablelands of New South Wales, Australia.

Den helped me understand cultural burning and its focus on caring for country.
I like the controlled risk in cultural burning and felt that connection with my mark making. When I made 'Out of the Ashes' I hit large charcoal branches at the paper, trying to land the mark in the right spot, while I reflected on the meditative dance of flames in fire.
Pricing and Shipping
Price includes shipping to major centres within the Artist's country. Please note that additional shipping charges and taxes may apply to remote or international destinations. These will be advised on request, or provided shortly after sale. We will not ship any artwork without your approval of any additional shipping costs.
What do these amounts look like in the real world?
250KG
Average yearly city bus commute to work - 10km daily
500KG
Return flight Sydney to Melbourne (economy)!
1 Tonne
Average emission of a return-flight economy from Paris to New York
2 Tonnes
Driving an average petrol car 11,500 km
5 Tonnes
Return flight Sydney to London (economy)!
What are emissions allowances?
Emissions Allowances regulate big polluters who operate in certain emissions trading schemes.

We endeavour to source our Emissions Allowances from a range of schemes. This certificate is backed by New Zealand government regulated Emissions Allowances (NZUs) held in our vault CEDO. For more information about these allowances see https://www.epa.govt.nz/industry-areas/emissions-trading-scheme/